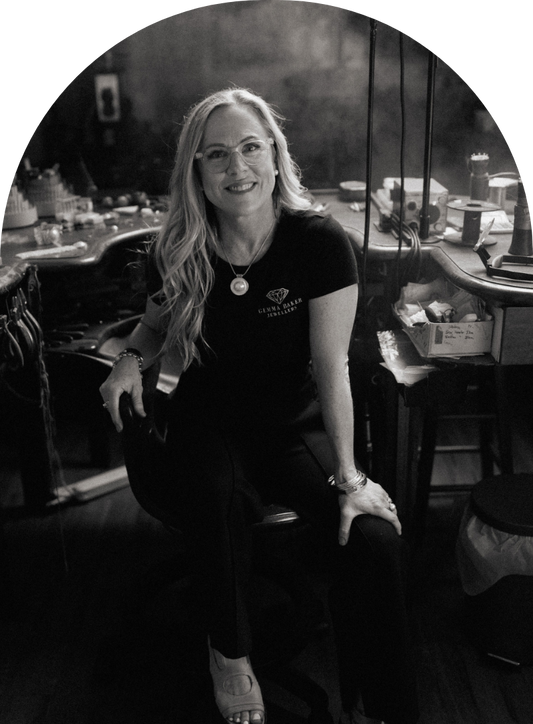 OUR STUDIO
Welcome to GEMARA, located in the West End of Marine Terrace in Geraldton, Western Australia. Our unique studio, including our workshop and showroom, provides the perfect environment for fostering direct interactions between our valued clients and skilled craftspeople - which we believe is essential to creating a truly personalised and meaningful jewellery experience.
From elegant designs to intricate masterpieces, our team of talented artisans is here to listen to your ideas and turn them into tangible works of art. Whether you seek a timeless classic or a contemporary statement piece, our studio is where your vision will take shape.
With a wealth of knowledge and expertise stemming from over 80 years of combined experience, we take pride in offering you unlimited creativity, unrivalled service and exceptional craftsmanship.
Step into our captivating showroom, where you can explore our stunning collection of exquisitely designed jewellery. From Abrolhos Island Pearls to Australian Diamonds, each piece reflects the passion and artistry that sets GEMARA apart. Feel free to try on your favourite pieces, and our knowledgeable staff will be delighted to guide you through the features and characteristics of each item.
Behind the scenes, our workshop buzzes with activity as our skilled tradespeople meticulously craft each jewellery piece and undertake repairs. Their dedication and attention to detail ensure that every project meets the highest standards of quality. Witnessing our artisans at work reinforces our commitment to transparency and the authenticity of the craftsmanship that goes into each piece.
We invite you to visit our studio to experience the magic of artisanal jewellery creation firsthand.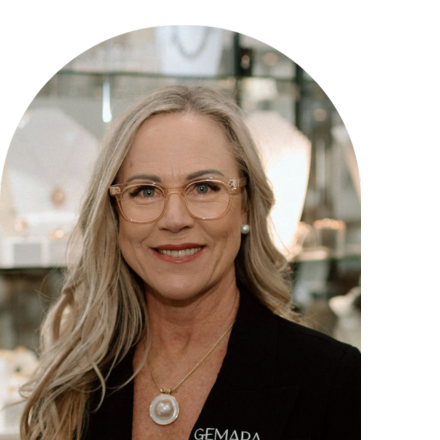 Gemma Baker
Founder, Master Jeweller & Jewellery Designer
Our visionary founder, Gemma Baker's journey in jewellery making began as a teenager, working alongside her father at Leon Baker Jewellers, where she honed her skills and discovered her passion for the craft. As a fourth-generation jeweller, Gemma's heritage in the industry is a source of motivation and pride.
Growing up on the captivating Coral Coast of Western Australia, Gemma's love for surfing and the coastline's natural beauty inspires her creativity.
As a leader in the industry, Gemma takes immense pride in creating unique and high-quality pieces that reflect her distinctive artistic vision. Each creation is a work of art, showcasing her passion for the craft and her commitment to delivering exceptional, interesting pieces that captivate the imagination.
With an unwavering dedication to her customers, Gemma believes in building long-lasting relationships through her commitment to forming genuine and authentic connections with her clients.
Gemma's experience, vision, artistry and passion inspire our team as we strive to provide you with a jewellery experience that goes beyond the ordinary, making every piece a treasured work of art.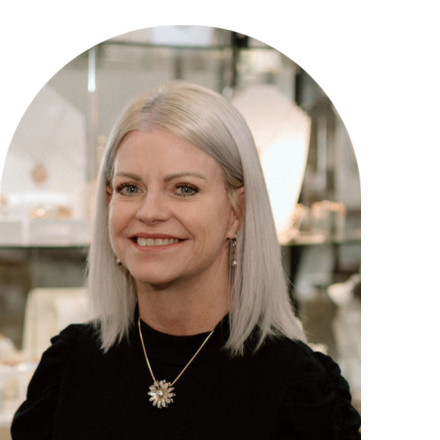 Lisa Ayre
Office Manager & Diamond Consultant
With a diverse background in administration, accounting and over 10 years of experience in the jewellery industry, Lisa brings a wealth of knowledge and expertise to GEMARA.
As our dedicated Office Manager, Lisa ensures the smooth running of our operations, orchestrating the behind-the-scenes tasks that allow us to provide exceptional service to our valued clients.
Lisa's passion for diamonds and gemstones shines through her role as a knowledgeable Diamond Consultant. Her keen eye for quality and her in-depth understanding of the intricacies of precious stones make her an invaluable resource when it comes to finding the perfect gem.
Beyond her current roles, Lisa's thirst for knowledge and commitment to excellence drives her to pursue her dream of becoming a gemmologist. Her ongoing studies in gemmology will further enhance her ability to identify, assess and appreciate the finest qualities in gemstones.
Lisa's dedication to her craft, coupled with her warm and friendly nature, make her a trusted advisor and a delightful companion on your journey to find the perfect piece of jewellery.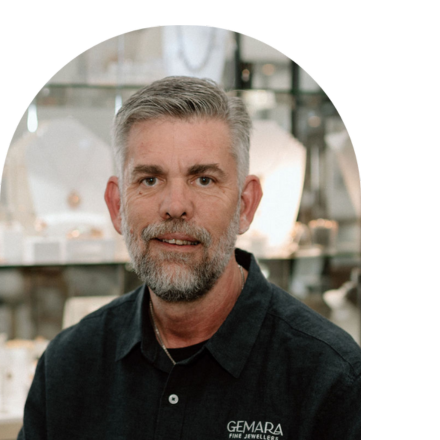 Robert Smith
Master Jeweller & Jewellery Designer
With an astounding 40 years of experience in the jewellery industry, Rob's craftsmanship and expertise are second to none. As our resident Master Jeweller, he brings unparalleled skill and precision to every piece he creates.
Rod's attention to detail will exceed your expectations, whether you have a unique design in mind or desire a one-of-a-kind piece that reflects your personality.
No challenge is too daunting for Rob, he approaches every project with passion and dedication. With his wealth of experience, he transforms precious metals and gemstones into cherished works of art.
Whether you're seeking a stunning engagement ring, a sentimental heirloom, or a unique statement piece, trust your vision to Rob, and he will craft a masterpiece that will be treasured for generations to come.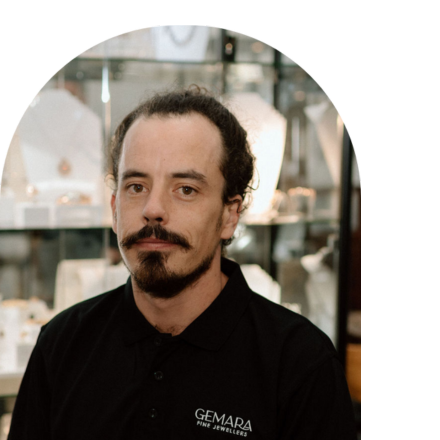 Oliver King
Apprentice Jeweller
We have the privilege of nurturing and mentoring talented individuals like Olly. Joining us as a mature-age apprentice in 2021, Olly has quickly proven himself to be a natural in the art of jewellery craftsmanship.
With an innate passion for the craft and an eye for detail, Olly is destined to be a rising star in the world of custom-made, bespoke jewellery. As he hones his skills and gains experience under the guidance of our master jewellers, we can already see the potential in his future.
With each piece he works on, Olly brings a unique perspective and dedication that shines through in his creations. As he continues to learn and grow, we eagerly anticipate the remarkable designs he will bring to life in the future.
Watch this space as Olly's journey unfolds and he emerges as a true game-changer within the industry.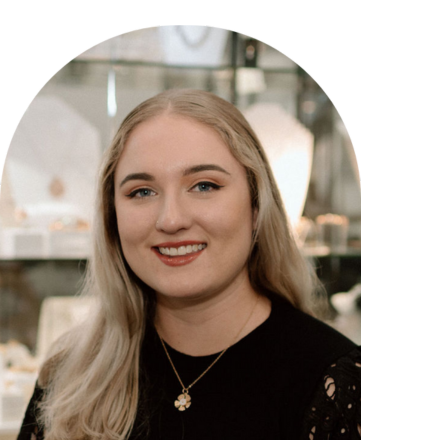 Jemima Beck
Sales Professional
Jemima is the warm and friendly presence that graces our GEMARA showroom. With a genuine passion for assisting customers, Jemima is dedicated to helping you discover your perfect piece from our stunning collection.
Her warm smile and welcoming demeanor create a comfortable and enjoyable shopping experience, making you feel at ease as you explore our exquisite selection of jewellery. Jemima's expertise and attentive guidance will ensure you find the perfect piece, whether you're searching for a sentimental gift or treating yourself to a well-deserved indulgence.
At GEMARA, we take pride in providing exceptional service. Jemima's commitment to your satisfaction reflects of our dedication to making your jewellery journey memorable and delightful.